By Stan Karpf, GSAC Board Member
Submit questions or feedback online 
At the April 11, 2023 Gulf Shore Association of Condominiums Board Meeting the Board of Directors voted unanimously to make a $52,800 donation to the City of Naples, to purchase security cameras to monitor all vehicular traffic moving in and out of the GSBN neighborhood. This donation will also provide the funding to maintain the cameras for five years, after which the City would agree to replace any non-functioning cameras and maintain and repair them at the City's expense.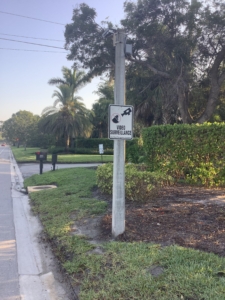 The installation will include video cameras and license plate readers (LPR). All videos will be stored for thirty days and the LPR's for ninety days.  
Since many have privacy concerns the Naples Police Department has assured us that access to the replays will be restricted to a very few individuals in the NPD and be protected by password access.
The Port Royal Association about a year ago engaged in a similar partnership with the City as did Royal Harbor and both have been happy with the results. 
The next step will be getting the cameras on a City Council Agenda so they can be presented and approved before City Council goes on summer recess. When approved, the cameras will be ordered and installed, hopefully by early fall.  
A big thank you to Master Officer Jeff Perry and Detective Pablo DeBien for assisting GSAC in getting this important project to this point, it would not have happened without them. 
We are excited to be entering an era of enhanced security in our neighborhood and hope you are too! 
This is just one more way in which your GSAC Board is working hard to make our neighborhood a safe and happy place to live and play.