May 1st marks the beginning of Turtle Nesting Season in Southwest Florida. For those of us that are staying in our beautiful City during the summer, it is important to limit night activities on the beach and reduce light pollution. The City of Naples Natural Resources Department offers useful information and guidance for both association managers and residents to ensure we give the five species of sea turtles that nest on our coastline the best opportunity to thrive.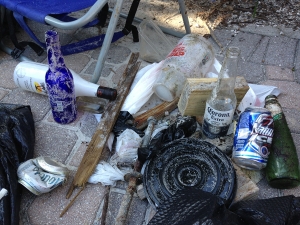 Recently, there has also been a problem with litter being found near Seagate Beach including beer bottles and evidence of after-hours visitors. We need your help to protect our environment and the precious wildlife that inhabits it. If you see litter and debris like this, we encourage you to report it to the Naples Police Department's non-emergency phone number (239-213-4844). By taking this step, you can help our friendly police officers keep an eye on the area, protecting our sea turtles and our neighborhood.
Additional Resources:
The Florida Fish and Wildlife Conservation Commission provides these guidelines for association managers and residents to ensure they are following best practices.