By Stan Karpf, Vice President, GSAC Board of Directors
Submit questions or feedback online
This story begins in Okinawa, Japan where Ty Ernst the proprietor of T-Michael's Steak and Lobster House was born. Ty's dad was in the US Air Force at the time. By the age of four Ty's family was on the move to Brewster, NY, a far north suburb of New York City where he spent his formative years.
Shortly after finishing high school in New York Ty moved to Fort Lauderdale, FL where he quickly accepted a job at a large Greek Diner, he worked there for a few years and rapidly learned the trade. He quickly learned that he loved the rapid pace of the restaurant business.
He struck out on his own after a few years as a young man in his early twenties and bought a small breakfast and lunch place.
In five years he was ready for yet a bigger challenge. He sold his first business and purchased a 150 seat diner which he quickly converted to 250 seats and shortly thereafter to 400 seats which he renamed Diner 84 which became a well known dining spot in the heart of Ft Lauderdale.
After owning Diner 84 for eleven years and at the time the father of two young children he starting looking for a new opportunity that would provide more family time. He purchased a small Italian restaurant and after establishing it as a premier restaurant in the area he then began looking for a second restaurant. This is when he stumbled upon a beautiful long established bay front restaurant in the beautiful City of Naples, for years known as Cloyde's, which he purchased in 2013 and renamed T-Michael's.
All of Ty's ventures have been a big success, I asked him how he did so well, his response, "I worked very hard and as an owner you must be present every day."
Ty is a very humble man, no doubt part of the reason for his success so I had to ask him about his many charitable activities in our community which I heard about through a mutual friend.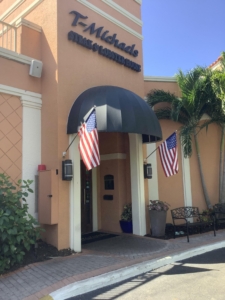 I was most impressed to learn that on Veterans Day Ty provides a complimentary entrée to all veterans. This has recently grown to a two day event where he serves over 1,800 meals to those that served our country.
Ty's giving does not stop there, on 9/11 all first responders are served a complimentary entrée. He does this every year and now serves over 100 entrees on that day, never to be forgotten.
He also supports The Shelter for Abused Women & Children. He provides a meal to each mother at the shelter on Mothers Day and Christmas Day. In addition he provides Gift Certificates to be auctioned off at their annual fund raiser. He does the same for the Boys and Girls Club and the Juvenile Diabetes Association.
Ty is very proud of his long time staff and the "Cheers" like bar atmosphere that has been created in the lounge which is very popular with the locals. The day I was there the lounge was very busy at 3:30 even though the restaurant isn't officially open until 4:00. If you enjoy Happy Hour, T Michael's is a must!
The setting of T-Michael's is magical overlooking Venetian Bay so not surprising, multiple times a year, Ty will walk into the dining room and see a customer on bended knee proposing to his future bride.
Ty recently signed a new long term lease with his landlord and is hopeful that his children will have an interest in participating in the business some day, his seventeen year old son Michael enjoys busing tables on the weekend while thirteen year old daughter Gabriela is the official "napkin folder". Ty is particularly proud of the fact that Michael was just accepted into the freshman class at the University of Miami.
And as we ended our interview with a big smile Ty reminded me, as he says in his frequently heard radio ad, "And remember, I'm Ty and I will be waiting at the door for you!"
Thank you Ty for all your philanthropic efforts it makes our City a better place!
Cheers!
T-Michael's Steak and Lobster House
4050 Gulf Shore Blvd N
Village Shops on Venetian Bay
Naples FL 34103
239 261 0622
T-Michaels.com