By Stan Karpf, GSAC Vice President
It's that time of year again when we start making plans to head south again to our life in the warm sunshine, walks on white sand beaches, and, oh those terrific tropical breezes.
With many of your kids working from home and grandkids on remote learning, there may be more time for a visit this spring. The big question is always, "What will we do to entertain them?" We took a little time to come up with unique places that you may not have visited yet.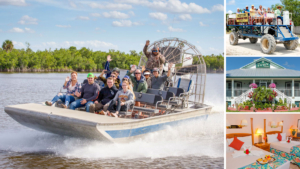 Wootens Airboat Rides
Tour the Everglades in an airboat either in a group or in your own private Airboat. You will see many alligators and have the opportunity to watch a live alligator show and hug your own alligator. Check the website for coupons and specials.
Ride a Segway Naples
What is a Segway? A two wheeled self balancing personal transporter which is very easy to ride and maneuver.
Segway Naples offers daily Segway tours in downtown Naples. Come learn about the history of Naples and enjoy a smooth ride with friends and family. Morning, afternoon, and sunset tours are available.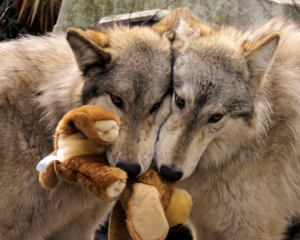 Shy Wolf Sanctuary
Shy Wolf Sanctuary is a non profit organization that rescues and rehabilitates captive-bred exotic wolf dogs, coyotes, gopher tortoises and a cougar.
There are only four rescue facilities like this in the state of FL, so it certainly is a unique experience. The sanctuary offers private small-group visits which are booked well in advance. You can also reserve a private encounter for you family for $600.
CREW Bird Rookery
For those of you who have family that enjoy the outdoors and hiking through nature we would suggest a visit to CREW Bird Rookery. The more than 36 miles of CREW Trust trails are a perfect place to visit year round.
Come see baby alligators and pine lilies blooming during the fall, Hawks nesting in the spring, the swallow-tailed Kites in summer, and the red maples in the winter.
Park Shore Marina
Conveniently located in the Shops on Venetian Bay in Park Shore, the Park Shore Marina provides a fine selection of high quality power and pontoon boats for half day and full day rental.
The marina store has a terrific selection of frozen and live bait, tackle, beer, soda, ice, and sundries. Also available for charter is a 38 foot Sea Ray Sundancer "Makai." Be sure to make your reservation early since rentals go fast in season.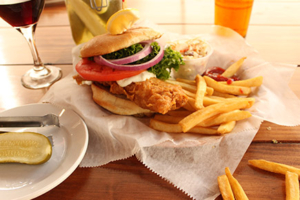 Village Pub
The Village Pub is a terrific place to bring the grandkids for dinner. This waterfront pub located in the Village Shops on Venetian Bay provides a welcoming and friendly environment for children. Featured is classic pub food such as hamburgers, fish and chips, along with a wide array of soups, salads, and sandwiches.
Your grandkids will enjoy watching the boats pass by and also feeding the fish that can been seen at night thanks to the fact that the water in the bay is lighted by underwater lights enabling the viewing of hundreds of fish. You may even catch the glimpse of a dolphin or two.