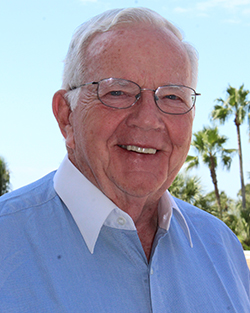 GSAC President Jim Melican's Report at the January 30, 2020 Annual Members Meeting
2019 was a busy and transformative year for GSAC. I assumed the presidency in April, following the death of our friend Jim Goetz, who had served as president since January 2016. During that period, Jim worked tirelessly to increase GSAC's profile in civic and governmental advocacy. He established much closer relationships with both the City's elected officials and staff heads, while spending a great deal of time downtown at City Hall.
When the Board asked me to serve out the remainder of Jim's term, it was with the mandate to devote more effort to the OTHER purposes for which GSAC was incorporated eighteen years ago, specifically:
(a) to provide a vehicle for the exchange of information regarding matters that affect the condo associations and HOAs along GSBN, and
(b) to familiarize residents of those buildings with local issues that affect their use and enjoyment of their property.
We devised a one sentence mission statement:  to enhance the quality of life in our community through communication, education, beautification and civic advocacy.
In the last year, we have had four resident forums over at St. John's Church. Two of the four were Candidates forums, for the special Council election last spring, and, just one week ago, for the Mayoral and Council election on March 17.
We also have had two issue-oriented forums, the first featuring Collier County Sheriff Kevin Rambosk and the second on the Quality of life in our community, with both the Naples City Manager — Charles Chapman, who is here with us today – – and the Deputy County Manager as speakers.
Over the last nine months, I have been privileged to work with an exceptionally dedicated Board, all of whom are making a meaningful contribution. Our Board members have individually  devoted a great deal of time to:
opposing the construction of a multi-story parking garage at Clam Pass;
interacting with FPL to gain a better understanding of the causes and consequences of the too frequent power outages and surges that afflict our area;
3.prevailing upon the City to maintain the sidewalks that run along the now very old seawall at Venetian Bay (though the issue of who owns the seawall is still in litigation);
having the Fire Chief — who is here today – – and Fire Marshall attend one of our meetings to better understand how some new provisions in the Fire Code, especially relating to fire doors, will be interpreted; and
revamping our website – – gsacnaples.org – -to make it more user friendly and include more timely information.
We recently established a Building Managers Committee, which will be co- chaired by Rich Dahn of LaMer and Chuck Schumacher of Monaco. When issues do arise, we believe that there is strength in numbers, and that as an organization we can foster a synergy that will enable us to accomplish much more than any single member association would be able to do on its own. And we would very much like the building managers who are present here today to consider joining  this Committee, partly as a vehicle to tell us what we can do to help you.
Going forward, we plan on having two more resident forums this spring, also at St. John's.
The first, on Thursday, February 13 – – just two weeks from today – – will be on the subject of identity theft,  fraud and cyber threat prevention. The speakers we will hear from at that session will all be experts on the subject.
The second, on Thursday, March 26, will deal with water quality, both in the bays and in the Gulf. We know from the feedback we get that water quality is a key issue that does affect residents' use and enjoyment of our waterways and beaches. It is also an issue that has many ramifications ranging from the need to monitor the City's 20 holding ponds, to treating storm water with chemicals prior to the water being pumped into the Gulf.
We are also in the process of identifying further subjects of interest to building managers that we can feature at our Board meetings. Given where we live, and the prediction that we will have more and more destructive  hurricanes in the future than we have had in the past, one such subject will be whether there is a role for a  public adjuster in negotiating damage claims with your building's insurer.
By the end of March, after most of the Board elections have taken place, we will again be distributing  to GSAC members a revised master list containing contact information for all of our member associations. We have been told by a number of members that compiling this information and assembling a list is a very useful tool for them.
Finally, another service we perform for members is to monitor proposed legislation at the state level on matters that would impact our membership. Just as one example, there are bills pending both in the Florida House and Senate  – – which we support – – that would make it much more difficult for individuals to make fraudulent Emotional  Support  Animal (ESA) requests.
That covers most of what GSAC  is doing at the moment.  We are, and we will continue to be, receptive to suggestions and comments from our membership.
And if there are Association presidents in the room who would like to get involved in GSAC  – – and we hope there are – – we would welcome that. Like any other organization, we need a continuing influx of "new blood" to mix with those of us who have been around for a while, and we would love to have you join us as we continue to work for the betterment of our community.
That concludes my President's report. Thank you – – one and all – – for coming today.